Created for professionals, LinkedIn has touched new heights in today's digital age.
With 722+ million users, it boasts of a space that suits the needs of marketers and people looking to grow their professional careers. LinkedIn maintains its supremacy as a social network for professionals despite new entrants in the market.
With regular updates and the addition of new features, LinkedIn has turned into a treasure-trove for all those who are looking to build their personal brand, generate more leads, or even find a new job online.
But the question arises- are you doing enough to build your brand on LinkedIn?
The truth is that LinkedIn is underutilized by most of its users, who prefer to treat it like yet another resume file.
.
So in this post, we'll talk about the various (organic) ways you can extract the most out of LinkedIn through profile optimization:
1. Set up a professional-looking profile
No one likes to see a blurry profile picture with an empty about section on LinkedIn.
Make sure to upload a clear and well-lit headshot of your face. Write a headline that defines who you are. Create an attractive banner that includes the services that you provide. Look at what Neil Patel, co-founder of Neil Patel Digital, does.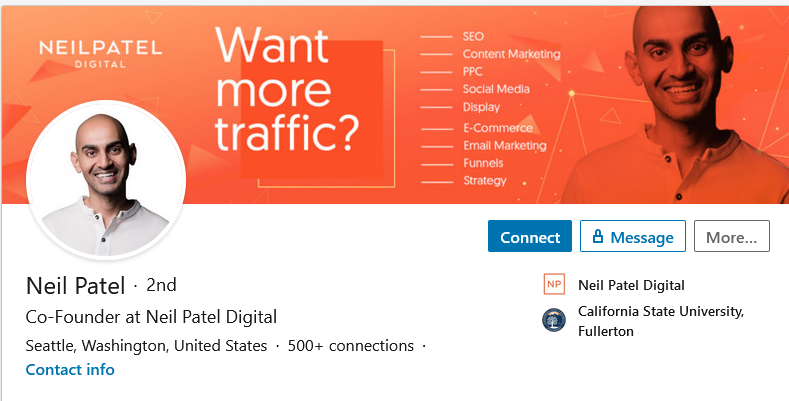 Tip- Use graphic designing tools such as Canva and Crello to create visually attractive content for your LinkedIn profile.
. . .
2. Tell your story
Put yourself out there. Let people know more about you.
It could be your life story or how you started your brand. Just post something that conveys your experiences, expertise, and the value you can provide to potential clients, business owners, employers, and even your connections.
That is how Vaibhav Sisinty gives his professional journey a personal touch.
Tip- Use keywords relevant to your industry to make sure your 'About' section is SEO-optimized. You can try out tools such as Ubersuggest to find the best keywords based on your target niche.
. . .
3. Build Your Portfolio
LinkedIn provides a 'featured' section for its users to showcase anything they are most proud of. You can feature your top-performing posts, or upload relevant links, documents, and media files.
Check out how Faisal Z. Anwer uses this section to promote his brand.
Tip- You can easily edit the title, description, and image of anything in the 'featured' section. Simply click on the edit button in this section and you can start optimizing it to look perfect.
. . .
4. Work experience, Education, Skills, and Recommendations
You have to mention all the relevant professional experience you have in the 'Experience' section. Moreover, by adding some skills to your profile, you give the users a fair idea about what you can offer them.
See how well Shamnas CV explains his work experience.
LinkedIn has a great option to endorse other user's skills. The number reflected against your skill tells a lot about your expertise in that domain.
Just like in a traditional work setup, never forget to get yourself a recommendation from people whom you have worked with.
Shiva Dudigama got himself a nice recommendation, which can help him build a solid personal brand.

Tip- Don't go overboard with these options. Only mention the points that apply to your skills and the industry you're working in.
. . .
5. Making new connections
We all have a habit of adding unrelated people to our social media profiles. LinkedIn isn't treated any differently.
Building a professional network is inarguably the most important aspect of personal branding on LinkedIn.
First, decide your niche. Search for users who are relevant to the specific industry or target group you are aiming to grow in.
Send out personalized notes with each connection request on LinkedIn. Aim to send at least 10-20 requests each day until you build a sizeable network.
This is how I embarrass myself.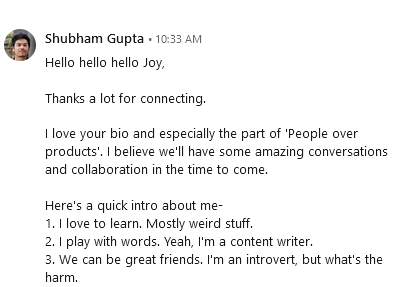 More often than not, these personalized connection requests convert.
Tip– Optimize your first 4-5 words to improve the open rate of your messages. Use something which catches attention (not click-baits).
. . .
6. Content. Content. A lot of it.
Provide value to others. Post content related to your knowledge and expertise. It should be relatable to your audience and offer enough value.
Add a CTA (call-to-action) at the end of your posts. Whether it's a question or something you are offering, make sure the readers get to engage more.
Shreya Pattar sure knows how to engage her audience while also providing value.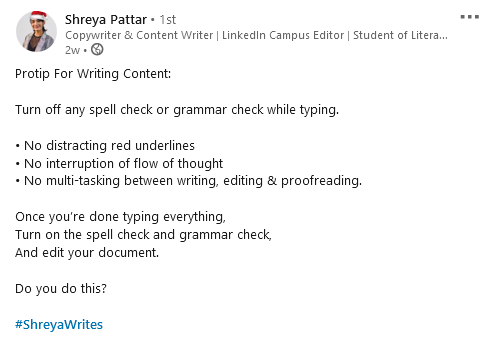 Tip- Don't forget to try out newly rolled out LinkedIn features such as Carousels and video posts. These posts usually get a higher engagement rate due to the LinkedIn algorithm.
. . .
7. Add 'Follow' Button
Users have an option to introduce the 'Follow' button instead of 'Connect'. This is great for individuals or brands looking to build a larger following through their content.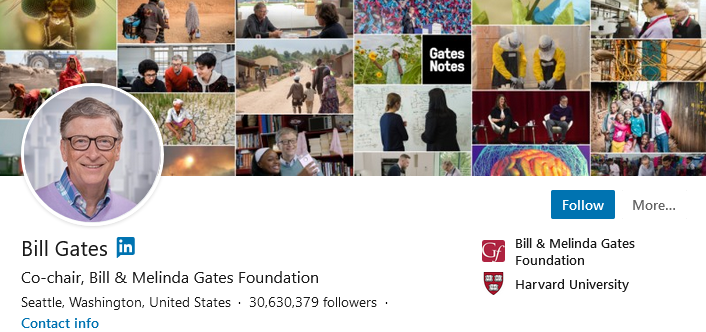 We aren't Bill Gates, but you get the idea, right?
Tip- Follow these steps to add a Follow button on your LinkedIn profile.
. . .
CHEERS! YOU MADE IT THROUGH THE GUIDE.
There you have it. You can start implementing these tips and optimize your LinkedIn profile to get better results and opportunities coming your way.
HAPPY NETWORKING!
. . .
Author – Shubham Gupta loves reading, watching movies, and playing around with social media. He is an amazing content writer with a fine knowledge of SEO. You can follow him on LinkedIn.